Welcome to Hogan's Pharmacy
Lillington's Hometown Pharmacy
We fill new and existing prescriptions in-store, by phone, online, and with our mobile app.
Transfer your prescriptions to our pharmacy using our simple and secure online transfer form.
Visit us in store or get in touch with a member of our pharmacy staff. We're always happy to assist you.


At Hogan's Pharmacy, we believe that being a local independent pharmacy means providing healthcare and medication services to our patients that are customized to meet their needs. Visit us today and let us take care of you.

Joe P.
"I had a bad experience and emailed Stacie about my experience. She quickly replied and corrected the issue that was of concern. This is local at its best. I can choose to shop anywhere but, I will be a customer for life here simply because I matter at Hogans! I'm not a number. Shop local and start a relationship with your community business people , they need our business as much as we need their business in our community."

Elizabeth S.
"Can't say enough about customer service and home town feel. Stacie made all my transitions from another pharmacy chain seamless. Thank you isn't enough for how welcoming they've made me feel."

Lacy M.
"Me and my mom always used this pharmacy. The staff are so friendly and nice. They will always help you whenever you have questions and very sympathetic. They did an awesome job whenever the store was closed and I felt bad they had to come outside and go to each car to get their refills or anything they needed from inside the store. Keep up the good work and love the family atmosphere!"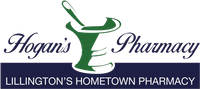 Our Location
815 West Front Street, Lillington, NC 27546
Hours: Monday-Friday 8:30a.m.–6p.m.
Saturday 8:30a.m.–2p.m.
Sunday closed